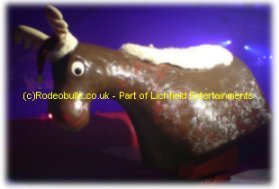 Rodeo Reindeer Ride For Hire
Our Rodeo Reindeer ride is a humorous festive alternative to a Rodeo Bull. Complete with his festive Santa hat and flashing red nose our Rodeo Reindeer is the ultimate entertainment for all Christmas Parties.

The Rodeo Reindeer uses the same motion unit and control panel as the Rodeo Bull so the speed of ride can be controlled from 'Docile Dancer' to 'Rampant Rudolph' level! Again the duration of the ride is automatically timed and shown on the large display panel and a trophy is provided for the longest ride of the event.

The ride requires an area of 17x17ft and height clearance of 9ft. All doorways, passages, lifts, etc must have a minimum width of 33inches for the equipment to pass through. If the venue is not on the ground floor a lift must be available.

Another great amusement for any Christmas party, and fast becoming the the 'must have item' is the Party Photo Booth and discounts are available when both this and the Rodeo Reindeer are hired together.


Package Prices...
Rodeo Reindeer and Party Photo Booth hired together from £575
Rodeo Reindeer and Staffed Popcorn and Candy Floss machines from £500
Rodeo Reindeer and Saloon Bar Shootout Quickdraw Game from £525
Rodeo Reindeer and Cork Gun Shooting Range from £500
To obtain a competitive quote for the hire of a Rodeo Reindeer, other Wild West theme games, our non-Wild West fun and games, or if you have any queries concerning hire, then please don't hesitate to call or contact us and we will be pleased to assist you.
Site Map - Rodeo Bulls - Bucking Bronco - Bucking Sheep Ride - Childrens Rodeo Ride - Party Photo Booth - Rodeo Reindeer Ride - Saloon Bar Shootout Game - Cork Gun Shooting Range - Hire Areas - Wild West Games - Popcorn and Candyfloss Machines For Hire - Inflatable Marquee - Rodeo Bull Hire Prices - Quick Draw Game - Contact Us - Other Inflatable Games for Hire - Links - Testimonials